<! http://www.panzertractors.com/images/graphics/davearrighi1.jpg copied: articlecopied:YES>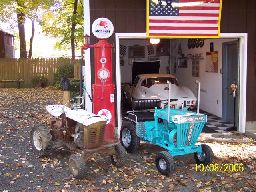 Dave Arrighi's 1107 and T75
Your request for a story on Panzers brings to mind how all this started with me a year ago.

Our property is well landscaped and it takes a lot of time and energy to keep it that way. I usually spread about 10 yards of mulch every year by hand. One day, after suffering back aches I said to my wife, " I'd like to find an old used garden tractor just for pulling a trailer and/or aerator. Because I like to mow my lawn with a walk behind to get my exercise, the need for a new one was out of the question. My search began. Everything I ran into was on it's last leg, nothing very dependable.

One day I was at my friends shop ( he runs a Model A Ford repair business ) and we got talking about old tractors. He invited me to his bone yard where lo and behold there was a Panzer 1107. Frank, I said " Does it run ?" He said, " It did a year ago ". Well we pulled it into the shop and gased it up, put a battery in it, gave it a choke, hit the starter and she roared to life. The price was right so I brought it home. My wife was not happy and I had to appease her with dinner and a movie. What a deal. The more I looked at it the more I could see potential for having a lot of fun with it. Not being a purist but being an old hot rodder from the Fifties, I decided to bring back some old memories. Out came the torches, sand blaster and paint gun. The project was in full swing. The Wheels were powder coated (alien silver), the seat was rolled and pleated, the fenders are diamond plate and the hood was flamed. To finish it off it needed duals, so the stacks were made from 1" black pipe and then aluminum ceramic coated and topped off with homemade raincaps (all tractors have raincaps).

Now that the Panzer is done and looking to pretty to work with, I am again looking for an a relic to do my yard work.
I am slowly getting hooked on these little tanks. My last purchase is a T75 which is planned for completion in 2007and I promise to make this one as original as possible. I wonder what it will cost me to keep my wife happy this time.

Dave Arrighi
Southampton, Ma.
vette64c@verizon.net

November 5, 2006
Updated September 23, 2011
GO BACK